The Vernon Lamb Archive, Sports & Sports Clubs
A Unique Photographic Record of Matlock & District, 1910-1915, and World War One Soldiers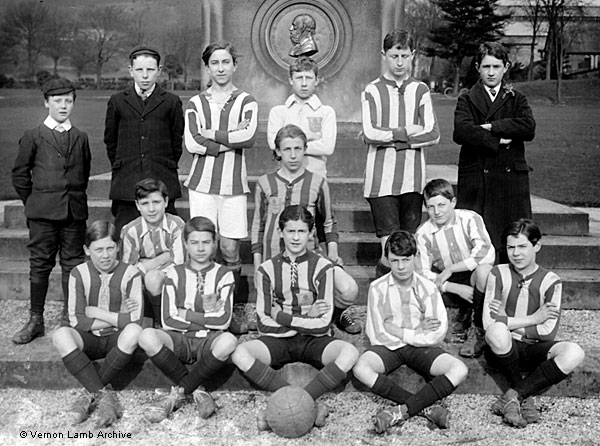 Place:
Darley Dale, Matlock
Property / Street / Road:
Whitworth Park
Date:
1914
Description/Historical Information:
Lady Manners School Football Team, beside Whitworth Memorial.
Back Row: G. Taylor, A Moody, W. Finney
Second Row: W. Flewitt, J. C. F[?] Smith
[Front row]: G. Petts, A Gillott, W. Holland (capt.), W. Duckmanton, J. Howard.
Record: Played 10, won 5, lost 5, goals for 63, gols against 36.
The photo and information was published in the High Peak News on 14 Mar 1914.
Unfortunately, the newspaper did not publish the names of the three boys not wearing football strips.
Further information
elsewhere on this site:
- Picture Gallery, Derbyshire: Darley Dale, Whitworth Park
Image Reference:
VLA5249
Copyright:
© The Vernon Lamb Archive and Robert White.
See About the Archive and About Vernon Lamb, Photographer.